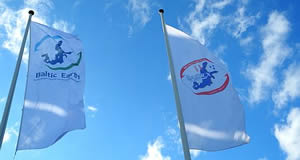 On Monday 10 June 2013, the BALTEX successor programme Baltic Earth was launched in the presence of H.M. King Carl XVI Gustaf, King of Sweden at the 7th Study Conference on BALTEX in Borgholm on Öland.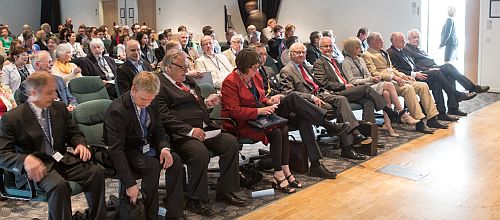 Launch of the new Baltic Earth programme in the presence of H.M. King Carl XVI Gustaf, King of Sweden. To the right of His Majesty is Colonel Per H. Nilsson, Lena Häll Eriksson, Director General Swedish Meteorological and Hydrological Institute, SMHI (Sweden), Stefan Carlsson, County Administrative Board Kalmar, Mikhail Durkin, HELCOM, and Markus Meier, SMHI and Baltic Earth Interims Steering Group chair; to the left are Anders Omstedt, University of Gothenburg (Sweden) and BALTEX Steering Group co-chair, Sirje Keevallik, Tallinn University of Technology (Estonia) and BALTEX Steering Group co-chair, Jan Erici, Chair of City Council Borgholm Municipality, Ian A. Nicholls, Linnaeus University Kalmar, and Hans von Storch, Helmholtz-Zentrum Geesthacht (Germany) and BALTEX Steering Group co-chair.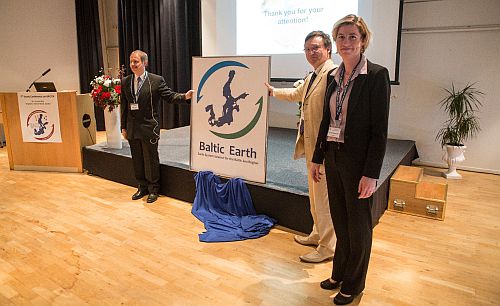 Markus Meier, SMHI and Baltic Earth Interims Steering Group chair (left), Marcus Reckermann, Head of the International BALTEX Secretariat at Helmholtz-Zentrum Geesthacht, and Anna Rutgersson, Uppsala University and co-chair of the Baltic Earth Interims Steering Group uncover the new Baltic Earth logo.
Photos: Marcus Reckermann (upper) and Karl Nilsson (middle and lower).
Link to the Royal Website here...
Press information here
Conference Programme

here...
Abstract Volume

here...
Read more on 7th Study Conference outcomes and aftermath here...
Call for Papers for a Special Conference Issue in Oceanologia
As already announced, we will have a Special Conference Issue in Oceanologia (www.iopan.gda.pl/oceanologia/). Everybody who contributed to the conference with an oral or a poster presentation is eligible to send in a manuscript. The paper must be based on the presentation. There are no page charges for conference authors.
Deadline for the submission of manuscripts is 7 October 2013
Please send us your intention to submit a manuscript by Monday 9 September 2013, along with a tentative title of your paper. This will help us to plan the Special Issue.
Find instructions for authors at the Oceanologia website: www.iopan.gda.pl/oceanologia/instructions.html. Please follow these instructions closely. The number of pages should be limited to 20 including figures, tables and references. Please check the instructions accordingly. The manuscripts will undergo a regular review process. There will be no page charges.
Please send your manuscript to the International BALTEX Secretariat by e-mail. We will collect the manuscripts here and send them collectively to Oceanologia. We are looking forward to receiving your manuscript!
---
Changes in Energy, Water and Matter Cycles - 20 Years of BALTEX Research
Building Regional Earth System Knowledge - A future programme for the Baltic Sea region
---
Rationale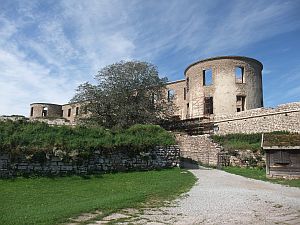 The 7th Study Conference on BALTEX will summarize 20 years of interdisciplinary BALTEX research in the Baltic Sea basin and will present perspectives for future research. The conference title is two-fold: "Changes in energy, water and matter cycles" summarizes the scope of BALTEX research in the last 20 years; "Building regional Earth System knowledge" stands for the scientific vision of the new programme which will inherit and further develop the BALTEX research network and scientific legacy.
The main focus of BALTEX Phase I (1992–2003) was to explore and model the various mechanisms determining the space and time variability of energy and water budgets of the Baltic Sea drainage basin and the interactions with surrounding regions. In BALTEX Phase II (2003-2012), the scope was broadened to include research on regional climate change and biogeochemical fluxes in a changing environment.
Major achievements of the past 20 years as well as latest research results from the open call for papers will be presented along with prospects and visions for the future regional Earth system research programme for the Baltic Sea basin.
This new programme will be the successor to BALTEX under a new name and modified research agenda, and will be launched at the conference.
---
Topics
The conference topics will reflect the past 20 years of BALTEX research with an emphasis on the scientific objectives of BALTEX Phase II. Presentations along the following topics are welcome:
Improved understanding of energy and water cycles under changing conditions. This topic inherits the major questions from BALTEX Phase I, encompassing operational issues and observations and modelling of the water and energy cycle.
Analysis of climate variability and change, and provision of regional climate projections over the Baltic Sea basin for the 21st century. This topic encompasses contributions to observation, analysis and modelling of past and present climate change, and projections for future climate change.
Provision of improved tools for water management, with an emphasis on extreme hydrological events and long-term changes. This topic covers operational and management issues related to a changed water cycle with its extremes and long-term changes, including analysis, modelling and decision support systems for decision makers.
Biogeochemical cycles in the Baltic Sea basin and transport processes within the regional Earth system under anthropogenic influence. This topic describes changes in the biogeochemistry, with multiple stressors on ecosystems of potental societal relevance to be identified and quantified, and their impacts discussed.
Part of the conference shall be devoted to contributions from GEWEX, the Global Energy and Water Exchanges Project of WCRP, and other Regional Hydroclimate Projects under the roof of GEWEX, as well as presentations from finalised BONUS+ projects. Overview presentations from both BALTEX phases will be given as well as prospects for the new programme to be lauched at the conference.
The conference is also intended as discussion forum for scientists, managers and other stakeholders, reflecting also the overarching objectives of stakeholder interactions and outreach. Invited and contributed papers will be presented in plenary along with parallel poster sessions. Conference language is English.