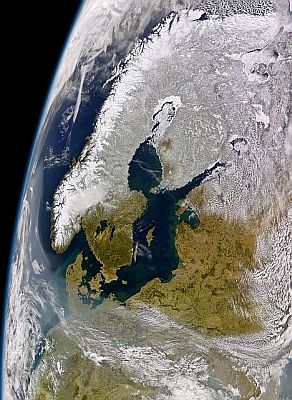 The Baltic Sea Basin on 1 April 2004, as seen from the SeaWiFS satellite (NASA/Goddard Space Flight Center, GeoEye).
---
BALTEX Science Plan 2003-2012 (pdf)
BALTEX Implementation Strategy 2003-2012 (pdf)
BALTEX Phase II Flyer (pdf)
BALTEX Phase II Revised Objectives (pdf)


---
News/Announcements
---

Two post-doc positions in quantitative food-web ecology at at the Department of Aquatic Resources at the Swedish University of Agricultural Sciences, Öregrund, Sweden:
1. Quantitative analyses of climate change impacts on community dynamics (Application Deadline: 23 April 2014)
2. Statistical food-web modelling for marine management (Application Deadline: 22 April 2014)
---
News/Announcements archive here


BALTEX is now Baltic Earth. A new website is in preparation.
For a first view on future topics of Baltic Earth, see here...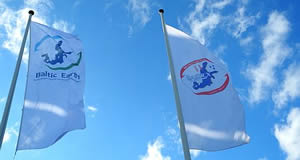 ---
BALTEX (the Baltic Sea Experiment) is a Regional Hydroclimate Project (RHP) within the Global Energy and Water Exchanges Project (GEWEX) of the World Climate Research Programme (WCRP).
The research focus of BALTEX Phase I (1993-2002) was primarily on the hydrological cycle and the exchange of energy between the atmosphere and the surface of the Earth, as they control and regulate the climate in a fundamental manner. BALTEX Phase II (2003-2012) has extended the scope of research to regional climate change, water management and biogeochemical cycles and transport processes in the regional Earth system. The study region of BALTEX is the Baltic Sea and its hydrological drainage basin, which constitutes a unique European water basin, creating specific demands on models and scientific concepts.

NEWS
---
---
New BALTEX Publications here
New Books
Schmidt-Thomé, P., J. Klein (Eds.)
Climate Change Adaptation in Practice - from strategy development to implementation
Wiley Blackwell Book Publication, 327 p., May 2013
ISBN 978-0-470-97700-2 More
Pastuszak, M., Igras, J. (Eds.)
Temporal and spatial differences in emission of nitrogen and phosphorus from the Polish territory to the Baltic Sea
National Marine Fisheries Institute, Institute of Soil Science and Plant Cultivation - State Research Institute Fertilizer Research Institute, Gdynia, 2012. 448 p. ISBN 978-8361650-08-9
Reckermann, M., K. Brander, B.R. MacKenzie, A. Omstedt (Eds.)
Climate Impacts on the Baltic Sea: From Science to Policy
Series: Springer Earth System Sciences. Springer Verlag, Heidelberg , 2012. 216 p. More

Schmelzer, N., J. Holfort, M. Sztobryn, P. Przygrodzki (Eds.)
Climatological Ice Atlas for the western and southern Baltic Sea (1961-2010)
ISBN 978-3-86987-278-0, BSH No. 2338 More
Omstedt, A.
Guide to Process Based Modeling of Lakes and Coastal Seas
Series: Praxis Books, Geophysical Sciences. Springer Verlag, Heidelberg, 2011. 310 p. More


New Articles

H.E. Markus Meier, Anna Rutgersson and Marcus Reckermann (2014)
An Earth System Science Program for the Baltic Sea Region
EOS 95 (13), 109-110
Link...

Timo Vihma
Effects of Arctic Sea Ice Decline on Weather and Climate: A Review
Surv Geophys DOI 10.1007/s10712-014-9284-0
Open Access...



AMBIO Volume 43, Issue 1, February 2014
Special Issue: BONUS+ in Support of the Ecosystem Approach to Management in the Baltic Sea
Guest Editors: Andris Andrusaitis, Maija Sirola and Kaisa Kononen

Tian, T., F. Boberg, O.B. Christensen, J.H. Christensen, J. She, T. Vihma, 2013
Resolved complex coastlines and land-sea contrasts in a high-resolution regional climate model: a comparative study using prescribed and modelled SSTs
Tellus A 65:1-19, August 2013
Contact Author: tian@dmi.dk
Abstract

Hägg, H.E., S.W. Lyon, T. Wällstedt, C.-M. Mörth, B. Claremar, C. Humborg, 2013.
Future Nutrient Load Scenarios for the Baltic Sea Due to Climate and Lifestyle Changes.
AMBIO DOI 10.1007/s13280-013-0416-4, June 2014, online
Contact Author: teresia.wallstedt@itm.su.se​
Abstract
Richter, M., Deppisch, S., von Storch, H, 2013
Observed Changes in Long-Term Climatic Conditions and Inner-Regional Differences in Urban Regions of the Baltic Sea Coast
Atmoshperic and Climate Sciences 3(2):165-176, April 2013
Contact Author: michael.richter@hcu-hamburg.de
pdf
Wasmund, N., G. Nausch, R. Feistel, 2013
Silicate consumption: an indicator for long-term trends in spring diatom development in the Baltic Sea
J.Plankton Res. 35 (2), 393-406, March/April 2013
Contact Author: norbert.wasmund@io-warnemuende,de
Abstract
Ning, T., G. Elgered, U. Willen, J. Johansson, 2013
Evaluation of the atmospheric water vapor content in a regional climate model using ground-based GPS measurements
Journal of Geophysical Research - Atmospheres, 118 p. 1-11, January 2013
Contact Author: tong.ning@chalmers.se
Abstract

Edman, M., A. Omstedt, 2013
Modeling the dissolved CO2 system in the redox environment of the Baltic Sea
Limnol. Oceanogr., 58 (1), 74-92, January 2013
Contact Author: Moa.Edman@gvc.gu.se
Abstract

Łabuz, T. A., 2013
Polish coastal dunes – affecting factors and morphology
Landform Analysis, Vol. 22: 33–59, 2013
Contact Author: labuztom@univ.szczecin.pl
pdf
News/Announcements archive here

Events
---
---
European Geosciences Union:
General Assembly 2014. Vienna, Austria, 27 April - 2 May 2014. More...



Announcement and Call for Baltic Earth-related Open Session on Coastal and Shelf Seas

here...
---
Measuring and modeling of multi-scale interactions in the marine environment. 6th IEEE/OES Baltic Symposium 2014, Tallinn, Estonia, 26-29 May 2014 . More...
---
Urban Regions under Change: Towards social-ecological resilience (URC 2014)
27 May 2014, HafenCity University Hamburg, Germany More...
---
Trending Now: Water
7th International Scientific Conference on the Global Water and Energy Cycle. World Forum, The Hague, The Netherlands, 14-17 July 2014: More...
---
Adapting to change: From research to decision making Copenhagen, Denmark,
25-27 August 2014. More...
---
International Conference:
Deltas in times of climate change II: Opportunities for people, science, cities and business. Rotterdam, The Netherlands, 24-26 September 2014. More...
---
More upcoming and past events here...
---

---