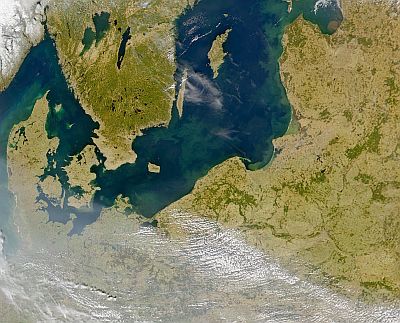 Rationale of the Conference
Changing climate has been investigated over the last decades on a global scale, which has led to enormous progress in understanding the driving forces and parameters of the climate controlling system. The current research requirements are focused on spatial downscaling in order to regionalize the process effects. This includes reconstructions for the Holocene as well as future projections which planning agencies may use for the socio-economic and technical reaction to changing climate. The Baltic Sea Basin is a region worth to be studied in high spatial resolution, because of its special interrelation between climate variations and the effects on the anthroposphere.
The southern part of the Baltic Sea Basin is of special interest: The Polish depression hosts in numerous lakes unique records of Late Pleistocene to Holocene sediments. Together with sediments of the Baltic Proper, these deposits can be used for the derivation of complex climate proxies for a high resolution reconstruction of the regional climate. At the same time, the adjustment of agriculture and water management to the changes in climate challenge stakeholders and planning agencies. In addition, sea level rise superimposed on neotectonic land subsidence leads to a continuous retreat of the southern Baltic coastline and requires activities in coastal protection, co-ordinated between neighbouring countries involved.
The Conference shall bring together scientists, economists, engineers, politicians and managers in order to discuss the issues mentioned above. Conference contributions will be both oral and as posters, Conference language will be English.
Conference Sessions
The Conference shall bring together scientists, economists, engineers, politicians and managers in order to discuss questions with respect to the following main Conference sessions:
Session A: Marine and terrestrial proxies for reconstructions of paleo-climate
Conveners: Achim Brauer, Andrzej Witkowski and Aarno Kotilainen
The focus of this session is on high-resolution multi-proxy data series of past climate changes in the Baltic region for the time period since the last glaciation. Key aspects are decadal to centennial climatic oscillations, the dynamics and timing of particularly abrupt changes, and the impact of changing climate on human settlements. Especially welcome are contributions on dating and correlating marine and terrestrial sediment records.
Session B: Modeling of past climate change and future projections
Conveners: Eduardo Zorita and Markus Meier
Climate models are the most powerful tool to predict future anthropogenic climate changes. At regional scales, their performance needs to be assessed against observations and climate variability, and changes at regional scales need to be understood, even more so in an area as complex as the Baltic Sea region. The whole hierarchy of model results, ranging from simplified models targeting one specific climatic variable to the most comprehensive regional climate models driven by state-of-the-art global climate models, as well as comparative analyses of models to observations or climate reconstructions, are welcome in this session.
Session C: Climate and anthroposphere interactions
Conveners: Christian Lis and Maciej Kowalewski
The session is devoted to effects of climate change on: technologies for the provision of goods and services; urbanization processes; land use planning; the property market including technical and social infrastructure and capital investment effects on its maintenance and development; agriculture, fishery, forestry, and tourism; public, social, economic, technical and health safety; and the quality of life. Effects of those factors on climate may be considered as well.
Session D: Prehistoric communities and climate change
Conveners: Friedrich Lüth and Marian Rębkowski
The massive climate changes during the last 30.000 years has led to a variation of different environmental conditions under which hunter and gatherer societies had to adapt their subsistence strategies. This session focuses on the interpretation of new proxy-data which shed light on the interrelation between environmental change and the development of social structures, especially in the post-glacial phase. Special attention will be paid to late hunter-gatherer societies, coastal oriented fishing communities, and the early farming societies.
Session E: Climate variability and change impacts on Baltic Sea coasts
Conveners: Stanisław Musielak, Peter Fröhle and Zygmunt Meyer
The session focuses on climatically controlled sea level rise and the hydrographic stress on the neotectonically sinking coasts of the southern Baltic Sea. The dynamics of coastal processes, from event driven short periods through the decadal up to millennial time scales, will be discussed between geoscientists, coastal engineers, and regional authorities. The role of extreme (catastrophic) events and risk assessment, as well as innovative concepts for coastal protection and new coastal zone management approaches, will be highlighted.
Invited and contributed papers will be presented in plenary along with parallel poster sessions. Conference language is English.