Overview
Concept
Baltic-C will involve the developing, evaluating, and applying the first fully integrated model framework for the predictive analysis of the functioning and dynamics of the Baltic Sea organic/inorganic carbon and oxygen systems (Figure 1).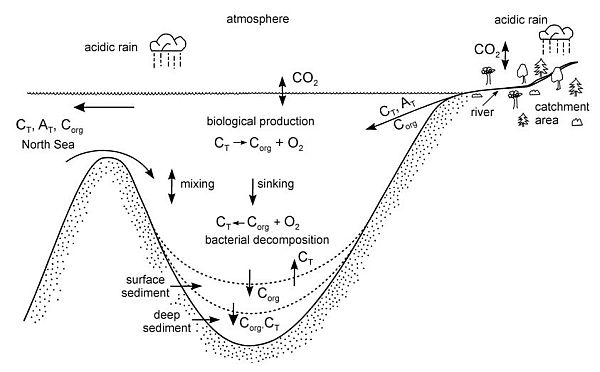 Fig. 1. Processes addressed in Baltic-C
This framework will significantly improve our understanding of the relevant physical, chemical, and biological processes and will be supported by and validated against comprehensive observational data (Figure 2). The work plan includes the following steps:
implementation of CO2 chemistry as part of an existing and well-established Baltic Sea numerical model;
linking models of the terrestrial carbon cycle and weathering regimes with a hydrological model to describe river carbon runoff to the Baltic Sea model;
characterizing the Baltic CO2 system and organic carbon inventories using existing data, data from dedicated research vessel cruises, and data gathered by new automated measurement systems on Voluntary Observation Ship (VOS);
a river mouth programme (new and existing data) to quantify the inputs of alkalinity (AT), total CO2, organic carbon, and nutrients;
measuring CO2 air–sea fluxes at an existing field station to improve the parameterization of the gas exchange transfer velocity; and
use data from the EMEP long-range atmospheric pollutant transport model to estimate the acid and nutrient deposition in the Baltic Sea and its drainage basin.
Fig. 2. Baltic-C integrated model framework in the historical/validation phase (a) in which the 1960–2000 and 1500–2000 periods will be considered. The blue arrows indicate the model data flow and the green arrows indicate comparison of the model with observations. The scenario phase (b) will be based on several available transient scenario runs covering the 1960–2100 period.
Expected outcomes
1. A new integrated model framework that supports the water management of the Baltic Sea and its ecosystem, addressing the consequences of climate change, eutrophication, increasing atmospheric CO2 concentration, and acid deposition.
2. Demonstration applications of the new framework of direct value for management, i.e.:
the first realistic quantification of the organic carbon (biomass) production and corresponding oxygen (O2) depletion in different eutrophication scenarios;
a far more precise quantification of acidification, in terms of pH changes, which may affect primary production and control the CO32– concentrations that are essential for the survival of organisms forming calcium carbonate shells;
the first quantification of the past, present, and future role of the Baltic Sea as a sink/source of atmospheric CO2; and
the first estimation of the potential costs of eutrophication related to the costs of the Baltic Sea as a sink/source of carbon.
For a complete overview over the project, click here.