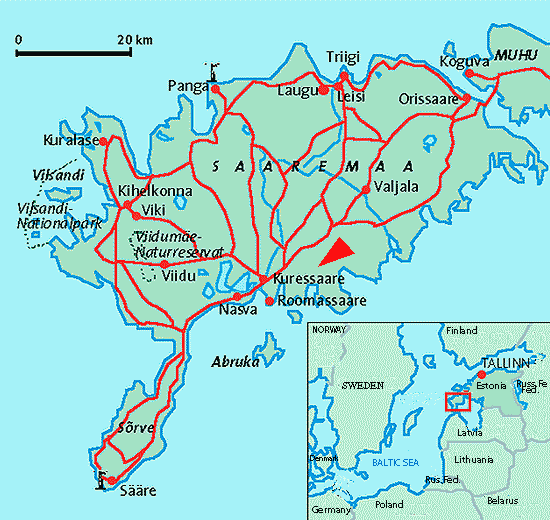 Travel Information
Tallinn Airport has flight connections to many destinations in Europe. Travel options from Tallinn to Kuressaare include air, bus and rental car. There are two flights daily from Tallinn to Kuressaare, the flight time is 45 minutes. Alternatively, a public bus operates between Tallinn and Kuressaare several times a day, the total journey time being about four hours. (To get from the Tallinn Airport to the bus to Kuressaare, you may either take a taxi or take another bus: bus No. 2, leaving every 20 min in front of the departure hall; ticket for 15 EEK, can be bought at the bus-driver; get off at the 3rd station, AUTOBUSSIJAAM.


The car and passenger ferry to Saaremaa via the island of Muhu operates hourly between the mainland port of Virtsu and Kuivastu on Muhu. When travelling by car, a timely booking of car space on the ferry is strongly recommended. Another travel option is by ferry between Ventspils in Latvia, and Saaremaa.


Tallinn Airport: www.tallinn-airport.ee;
Kuressaare Airport: www.eeke.ee;
Bus between Tallinn and Kuressaare: www.bussireisid.ee;
Ferry between Virtsu and Kuivastu: www.slk.saaremaa.ee.