The conference will take place at Szczecin University, Poland.
Szczecin University
Congress Center
Krakowska 71-79
PL-71-017 Szczecin
Poland
---
For Travel to Szczecin and the Conference centre, see here...
See also bottom of this page.
A shuttle service from Berlin and Szczecin Goleniow airports may be booked for a price of ca. 10-25 €. To take advantage of this offer, please send your flight times (arrival and departure) in advance to Marcin Wroniecki (marcin.wroniecki@univ.szczecin.pl).
---
Accomodation
Here is a list of recommended Hotels:
Hotel "Ibis"
ul. Dworcowa 16, 70-206 Szczecin phone: +48 91 480 18 00
fax: +48 91 480 18 88
http://www.accorhotels.com/pl/hotel-3369-ibis-szczecin-centrum/index.shtml

Hotel "Novotel"
al. 3 Maja 31, 70-215 Szczecin
phone: +48 91 480 14 00 fax: +48 91 480 14 44
http://www.accorhotels.com/pl/hotel-3367-novotel-szczecin-centrum/index.shtml

Hotel "Ibis Budget"
Prof. Ludwika Janiszewskiego 2 71-004 Szczecin
Tel. (+48)914822466 Faks. (+48)914826322
http://www.accorhotels.com/pl/hotel-3428-ibis-budget-szczecin-przedtem-etap-hotel/index.shtml

Hotel "Campanile"
ul. Wyszyńskiego 30 70-203 Szczecin
phone: +48 91 481 77 00 fax: +48 91 481 77 01
http://www.campanile-szczecin.pl/en
Silver Hotel
Rondo Hermana Hakena 70-001 Szczecin
Tel. +48 91 44 12 500 Tel. +48 91 81 71 200 Fax +48 91 44 12 570
http://www.silverhotel.pl/

---
The city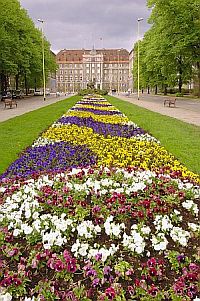 Szczecin is located south of the Szczecin lagoon, which is part of the Oder river estuary, draining into the Pomeranian Bay of the Baltic Sea.
Szczecin is the capital of Western Pomerania and located in the vicinity of three European countries: Germany, Denmark and Sweden. The historical and cultural milieu of the city originates from more than thousand years and has been shared by several nationalities. Large parts of the city architecture go back to the last half of the 19th century, bearing a striking resemblance to Paris, which was re-constructed by the same architect. The urban built-up areas contain green enclaves as well as parks featuring rare tree and bush species. The squares in Szczecin are planted with many varieties of magnolia that bloom in spring. The city of Szczecin and Western Pomeranian Province are one of the most attractive tourist regions in Poland.
Tourist Information: www.szczecin.eu/en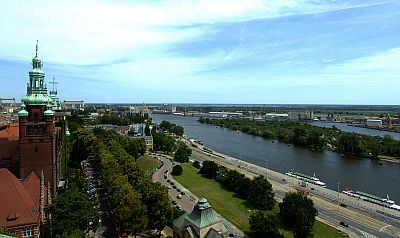 ---
How to get there
Szczecin can be reached by air, either directly, or via Berlin, where trains and buses leave for Szczecin regularly (2-3 hours travel time). There are ferry connections between Świnoujście (north of Szczecin) and both Ystad (Sweden) and Copenhagen (Denmark). A hydrofoil service connects Świnoujście and Szczecin via the Oder river.